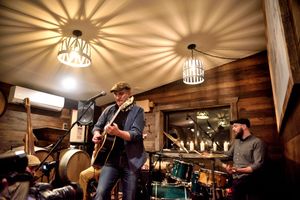 "

"I've had the pleasure of working closely with Marc Von Em as a singer, but when I heard his original stuff I asked him to open up a 10,000 seat gig. Just him, his guitar, and his songs. He killed it!" " - Rob Thomas (Matchbox 20)
Biography
Marc Von Em's soulful sound is driven by skilled acoustic guitar playing and a rich, dynamic voice.  His original music is a mix of bluesy rock, folk & funk, and more recently early jazz & swing.  Von Em is an accomplished performer whose live shows never fail to entertain.  He appears mostly solo, showcasing his original music on acoustic guitar with a bit of harmonica and other instrumentation sown in.  Occasionally he invites other talents to join him and has lately been incorporating piano, saxophone and upright bass into his live shows to elevate his sound. 
In 2022 Marc released his fifth original recording, "Goodbye, Cloudy Sky".  This album pays homage to The Great American Songbook and is filled with lyrically strong, melodic tunes influenced by early jazz, swing and a little of funk.  Goodbye, Cloudy Sky is currently being spun on folk radio stations across the U.S. and has ranked in the top 50 on the FAI Folk Chart "Top Albums of the Month". 
In addition to writing and performing as an indy artist, Von Em is currently signed to Pure Pop Music Publishing Inc. as a songwriter for current and up and coming musical acts, VAMNation Entertainment Management as a vocalist on globally broadcast commercials, and HAUS Music NYC, collaborating with musicians, composers, producers, bands & publishers scoring soundtracks for movie and commercial use. 
Marc is proud to have shared the stage with Rob Thomas (Matchbox 20) as a backing vocalist and guitarist for 10 years and three world tours.  He has also shared the stage with or opened for: Michael McDonald, Richie Havens, Martin Sexton, Rusted Root, Psychedelic Furs, Kansas, Blue Oyster Cult, Lucy Kaplansky, Glen Tillbrook, Charlie Musselwhite,  Hermans Hermits and many more. 
He is currently appearing at venues in the Northeast, promoting his original catalog of music, and enjoying life with his wife, Jen, and two cats at his home in the Pocono Mountains of Pennsylvania.
Opened for/Shared stage with
Michael McDonald
Martin Sexton
Rusted Root
Rob Thomas
Blue Oyster Cult
Richie Havens
Uncle Kracker
Lucy Kaplansky
Carolina Liar
Kansas
Glen Tillbrook
Charlie Musselwhite
Rick Springfield
Psychedelic Furs
Jefferson Starship 
Vance Gilbert
Mammas and the Pappas
The New Rascals
Herman's Hermits
Production/vocals/guitars for commercial use
Budweiser
Twix/Mars Inc
Tropicana
American Pickers
Storage Wars
Party of Five
Ozarka Water
Meredith News